Great websites that convert visitors to customers answer these three questions.
Creating a great website requires much more than the latest widgets or a shiny new set of graphics. Truly great websites are those that not only deliver an impressive user experience, but also clear and concise answers to the top questions your visitors will have. The ability for your visitors to clearly understand the answers to their key questions directly affects their impressions of your brand and their view of the value you provide. Clarity, as you will see, is a key element of a great website.
The specific needs that your visitors have will definitely vary significantly from person to person, as everyone will have a unique set of circumstances that drove them to find you. However, before you are able to deliver solutions for their unique situation, your website must deliver clear and direct answers to these three overarching questions:
WHO
WHAT
WHY
WHO are you? – This is all about the identity of your brand. In essence, do they already know you? If they do, will they recognize you apart from your competitors? The importance of first impressions on your website cannot be emphasized enough. It can be something as simple as a unique and identifiable logo, tagline, or colour scheme. Whatever it is that makes your brand unique and identifiable, you must ensure that your website conveys this in a clear and effective way.
WHAT do you do? – This is all about what it is you actually do. Does your visitor know at a glance that you make product X, or deliver service Y? What's the basic, core function of your brand? There are countless brands out there that have instantly recognizable logos or taglines, but are victim to the lack of clarity around what it is they actually do. Your website should answer this immediately, and with perfect clarity.
WHY should I care? – This is arguably the toughest of the three main questions you need to answer. Most brands have a clear idea of who they are, and what they do. All too often, however, they do not have the clarity they need to effectively convey WHY they do what they do, and WHY visitors should care. If your brand doesn't have a definitive reason for being, a purpose, a mission, a core difference or driving passion, then to your visitors you might just be viewed as simply 'another option'.
Go take a look at your website. Right now. Look at the home page and ask yourself those three main questions. Better yet, find someone else to do it and see what they say. Wanna bet their answers are different from yours? If they are, take a good long look at what the answers SHOULD be, and start tweaking.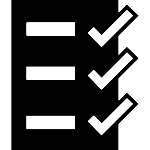 Also, don't forget to do the same kind of test to other pages that serve as entry points to your site. It's crucial to always remember that search engines drive your traffic to the most relevant pages, and this is not always your home page. Check your Google Analytics to identify other top entry pages and work on refining those, too.
The name of the game is 'optimization', and that means continually tweaking and adjusting for best performance, so be sure to do this regularly. Your visitors, and your bottom line, will appreciate the effort!